Document scanning services Plymouth
Looking for a reliable and efficient document scanning service in Plymouth and the surrounding areas? Look no further than Pearl Scan! With over two decades of experience in the document scanning industry, we offer a range of services that can help you to streamline your document management process, increase efficiency, and reduce costs.
Welcome to our document scanning services Plymouth
We pride ourselves on delivering top-quality, high-volume document scanning services to our clients. Our secure systems enables us to quickly and efficiently deliver your scanned documents directly to you. With all of our scanning services managed centrally, we are able to move fast while still maintaining superior quality, high levels of customer service, and competitive rates.
Whether you need to execute a backfile document conversion project or establish a day-forward digitisation process, our experienced team, state-of-the-art facilities, and advanced technology make us an ideal choice for all of your document scanning needs. Contact us today to learn more about our comprehensive document scanning services and how we can help you to streamline your document scanning process.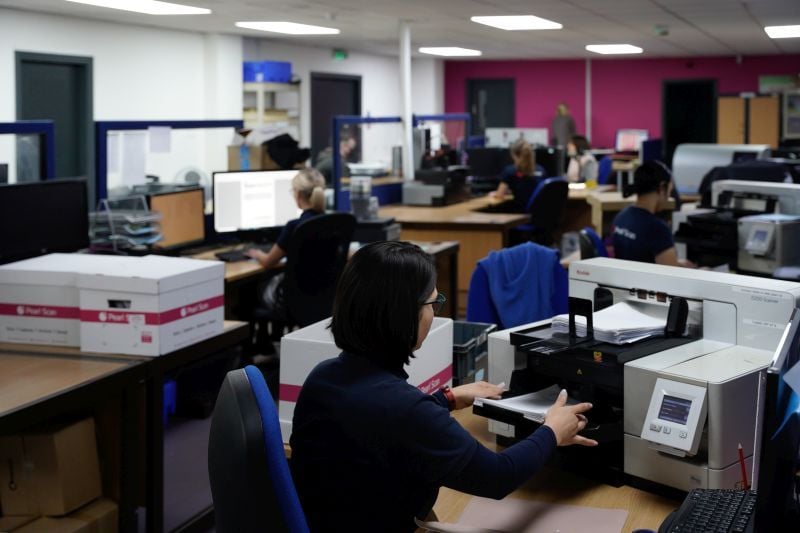 We offer a complete, end-to-end solution for all your document scanning needs.
We offer a range of services to help businesses streamline their document management processes, including document pick up, scanning, indexing, and return services. Our team utilises state-of-the-art technology to ensure the highest level of accuracy and efficiency, while maintaining strict security protocols to keep your sensitive information safe.
For over 20 years, Pearl Scan has been helping businesses in Plymouth to free up valuable office space and improve access to important data through our scanning and document conversion services. Our dedication to providing top-quality service, combined with our commitment to maintaining the security and confidentiality of your data, sets us apart in the industry.
Here are three more reasons why businesses in Plymouth choose Pearl Scan:
Expertise
Expertise is one of the key features that sets Pearl Scan apart in the industry. With over two decades of experience in providing document scanning and management solutions, our team has developed a deep understanding of the best practices, technology, and techniques required to deliver high-quality results.
Approachability
We believe that approachability is a key component of providing exceptional service to our clients. We understand that document management can be a complex and daunting task for many businesses, which is why we prioritize clear communication, friendly service, and a collaborative approach to every project.
Tailored Solutions
Whether you're looking to digitise your entire archive or just a portion of your documents, we work closely with you to develop a solution that is tailored to your needs. By leveraging the latest technology, industry expertise, and best practices, we deliver a solution that is efficient, effective, and maximises your return on investment.
The document scanning process
What we do with your documents
Collection

We provide a secure collection of your documents from anywhere in the UK within 24 hours or as convenient for you as well as we can supply storage boxes and assistance with removing and boxing up your files.

Conversion

We scan and convert all types and sizes of documents to a digital format of your choice such as PDF, PDF Searchable, TIFF, JPEG, Microsoft Word and Excel.

Delivery

We deliver your digital data on a secure storage medium of your choice such as CD, DVD, USB, secure FTP or fully managed Pearl Cloud document management system.
We have the ideal solution for your paper-related challenges.
We specialise in providing document scanning and imaging services to some of the most highly regulated organisations and government agencies in the UK. We understand that each business has unique document scanning and conversion needs, which is why we offer a range of services tailored to meet your specific requirements, such as;
Backfile scanning services
Day forward scanning services
Mailroom scanning service
Scanning services for Office Move
Scanning of documents to save office space
Document scanning to save ongoing storage cost
Document scanning services for GDPR compliance
Here are some reasons why customers choose Pearl Scan for document scanning services:
Quality assurance: We use the latest technology and equipment to ensure high-quality scans and accurate data capture.
Security: We prioritise the security of your data with strict confidentiality agreements, secure storage facilities, and adherence to data protection regulations.
Tailored solutions: We offer customised solutions to meet the unique needs of each customer, from scanning and indexing to digital archiving and document management.
Cost-effective: We provide affordable and cost-effective solutions to save your business money on physical storage and document management.
Quick turnaround: We work efficiently to ensure fast turnaround times and meet your deadlines.
Customer service: Our dedicated customer service team is available to answer any questions or concerns throughout the scanning process.
Environmental responsibility: We help reduce paper waste and promote eco-friendly practices by converting physical documents into digital formats.
Nationwide coverage: We offer document scanning services across the UK, with the ability to collect and deliver documents from anywhere in the country.
Quality accreditations: We are fully accredited to Data Security, Confidentiality, and Quality standards, providing added assurance to our customers.