About Us
Welcome to Pearl Scan, a leading provider of effective document management solutions. With more than 20 years of experience, we have established a reputation for delivering top-quality document scanning services that enhance efficiency and reduce costs for businesses of all sizes.
We take great pride in working collaboratively with our clients to gain an understanding of their unique requirements and deliver bespoke solutions that address their specific challenges. Whether you're looking to streamline your document management processes, digitise your archives or enhance your workflows, we're here to help.
We believe in continuous learning and development, investing in our team members to encourage them to expand their knowledge and expertise. This approach ensures that we provide our clients with the most effective solutions and stay ahead of the curve. We're committed to creating an inclusive and diverse workplace where everyone is treated with respect and has the opportunity to thrive. We believe that diversity brings a range of perspectives and ideas to the table, leading to better outcomes for our clients.
Our Misssion Statement
Our mission is to provide our customers effective document management solutions that enhance efficiency, reduce costs, and improve sustainability. We build long-term relationships with our clients based on mutual trust and respect, working closely with them to understand their needs and deliver customised services. Our commitment to exceptional customer service, cutting-edge technology, and environmental responsibility enables us to help our clients succeed in today's business environment.

Our History
Founded in 2003, Pearl Scan started as a document scanning company serving businesses in London and the surrounding areas. As our reputation for quality services and expertise grew, so did our client base, and we quickly expanded our services nationwide to include advanced automated data capture, secure document storage, confidential document shredding and development of open source document management software.
Today, we are a national document management services company with a team of professionals dedicated to providing the highest level of service to our clients. We have invested heavily in cutting-edge technology to offer our document management solutions to businesses of all sizes, ranging from small to medium-sized enterprises to large multinational corporations and public sector organisations throughout the UK. Our mission is to provide effective document management solutions that enhance efficiency, reduce costs, and improve sustainability for our clients.
Awards and Recognition
Pearl Scan has been recognised for its excellence in the document management industry with several awards and accolades, including:
Awards: We are delighted to announce that our Halogen document management software won the prestigious DM Awards in 2021 for the "Open Source Document Management Software of the Year." This award recognises our commitment to delivering exceptional open-source software development, adding significant value and cost-effectiveness to our customers. We are proud to have been recognised for our innovative approach to document management software development and our commitment to providing the best possible solutions for our clients.
Certifications: We hold several ISO certifications for Quality Management (ISO 9001), Environmental Management (ISO 14001), and Information Security Management (ISO 27001), PCI (Security Standards), Cyber Essentials and BS 15713 which demonstrate our commitment to providing high-quality services while protecting the environment and ensuring the security of our clients' data.
We are proud of these awards and recognitions, which are a testament to the hard work and dedication of our team in delivering outstanding document management solutions for our clients.
Our Values
Customer-focused approach
We put our customers at the heart of everything we do, and we strive to understand their unique needs and challenges to deliver the best possible solutions.
Integrity
We operate with the highest standards of integrity, honesty, and transparency in all our dealings with customers, suppliers, and employees.
Innovation
We are constantly looking for new and innovative ways to improve our services, leveraging the latest technology and best practices to deliver the most effective solutions to our customers.
Environmental responsibility
We are committed to reducing our environmental impact and helping our customers to do the same by offering sustainable and environmentally responsible document management solutions.
Teamwork
We believe in working collaboratively and building strong relationships with our customers, suppliers, and employees to achieve shared goals and deliver exceptional results.
Professionalism
We conduct ourselves with the utmost professionalism in all our interactions, maintaining a high level of expertise, knowledge, and competency in our field.
Services Offered
Document Scanning: Comprehensive document scanning service that enables businesses to digitise and securely store their paper documents.
Document Management: Allows our customers to access and manage their digitised documents easily and securely, using our custom-built software solutions.
Document Storage: Secure document storage solutions for businesses of all sizes, ensuring that their sensitive documents are protected.
Document Shredding: Enables businesses to securely dispose of their paper documents, ensuring that sensitive information is destroyed beyond recovery.
Microfiche Scanning and Microfilm Scanning: Specialised scanning services, enabling businesses to digitise their microfilm and microfiche collections.
Aperture Card Scanning: Our aperture card scanning service enables businesses to digitise their aperture card collections and access them easily and securely.
Large Format Scanning: Digitisation of large drawings, maps, and blueprints, enabling easy access and secure storage of these important documents.
X-rays, Negatives, and Photos Scanning: Specialised scanning services for X-rays, negatives, and photos, providing businesses with high-quality digital images.
Halogen and Pearl Cloud Software: Our custom-built software solutions, enable businesses to manage their digitised documents efficiently and securely.
Data Capture and Extraction Services: Enabling businesses to extract valuable data from their digitised documents and integrate it into their existing systems.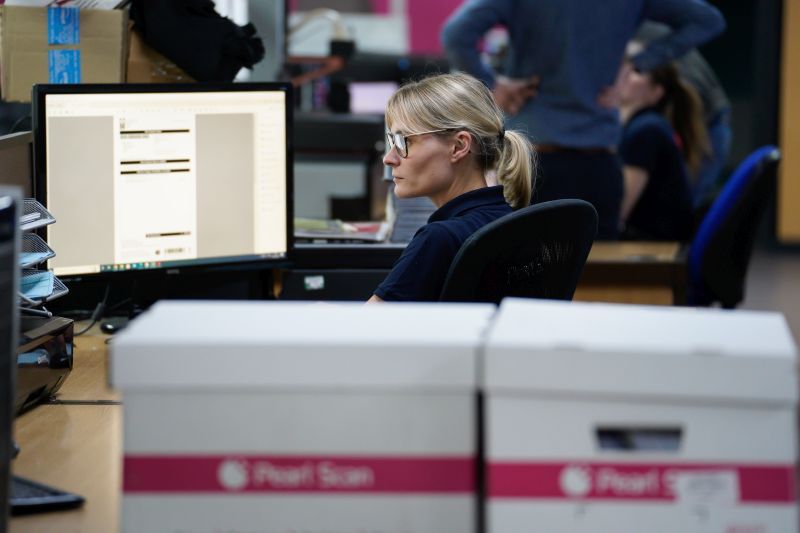 Our Team
Experts
Our team of professional document management experts has years of experience in the industry, and they are dedicated to delivering the best possible solutions for our clients. They have in-depth knowledge of the latest document management technologies and best practices, and they work closely with our clients to understand their unique needs and challenges.
Software Developers
Our in-house team of document management software developers has developed our custom-built software solutions, Halogen and Pearl Cloud, which enable businesses to manage their digitised documents efficiently and securely. Our software developers are highly skilled and experienced, and they are committed to delivering innovative and user-friendly software solutions for our clients.
In-house Engineers
Our in-house team of engineers is responsible for maintaining and updating our state-of-the-art scanning equipment and ensuring that our facilities are secure and well-maintained. They are highly skilled and experienced, and they work tirelessly to ensure that our clients' documents are handled with the utmost care and security.
Compliance
Compliance with Data Protection, Data Secrecy, GDPR, DBS and BPSS Vetting:
At Pearl Scan, we take data protection and confidentiality very seriously. We comply with all relevant regulations, including the Data Protection Act, the General Data Protection Regulation (GDPR), and other relevant legislation. Our staff is subject to strict background checks, including DBS and BPSS vetting, to ensure that they are suitable for handling sensitive and confidential information.
Our National Operations
We started our operations from a small office in the year 2003, outgrowing multiple scanning centres and we now operate nationally from our purpose-built document scanning bureau with the capacity to scan 10 x million pages a month.
For more than 20 years Pearl-Scan has specialised in high-quality digitisation and associated archiving services. This expertise is coupled with a strong emphasis on developing friendly and long-term relationships with our clients. Our association with a wide range of organisations and sectors has created an understanding of digital production workflows and quality assurance principles that we believe are second to none.
We have an impressive array of high-spec digitisation equipment and several open-source data management software solutions. This end-to-end approach is supported by robust quality control standards and adherence to strict project management procedures to ensure that deadlines are met within budget. Official recognition of our commitment to these standards comes in the form of our ISO9001 accreditation. We of course take very seriously safeguarding our customers' material and data, as evidenced by our ISO27001 for Information Security and ISO14001 for Environmental Management Standards.
When working with us, you'll discover a business that prioritises customer care to a great extent
We take great pride in providing excellent customer care and delivering value to our clients by helping them reduce their document management costs and enhancing their operational abilities. We're pleased to say that our operational process has received high praise, and our team's technical expertise adds further value and reassurance for our clients.
We're constantly investing in our people and welcoming new talent across all areas of our business to ensure we remain at the forefront of our industry. So, if you choose to work with us, you can be sure you'll receive a warm welcome and dedicated support every step of the way.
Our Company Culture:
We strongly believe in fostering a culture of collaboration, innovation, and excellence. We encourage our employees to work together and share their ideas to drive creativity and find innovative solutions to our clients' challenges.
We also value continuous learning and development, and we offer training and development programs to help our employees enhance their skills and knowledge. By doing so, we can provide our clients with the most up-to-date and effective solutions.
We strive to maintain an open and inclusive environment where all employees feel valued and respected. We believe that a diverse team brings unique perspectives and ideas, enabling us to better serve our clients.
In summary, our company culture is centred around collaboration, innovation, continuous learning, and inclusivity, all aimed at providing the best possible solutions and service to our clients.