Paperless Office Solutions
Welcome to the future of office management – the paperless office! In today's digital age, paper-based systems are slowly becoming obsolete. With the rapid advancement of technology, it's now possible to streamline office operations and reduce paper waste by going paperless.
How can a paperless office benefit your business and the environment?
A paperless office is a work environment where all paper documents are digitised, stored and managed electronically. It's an eco-friendly solution that can improve efficiency and reduce costs for any business.
The benefits of going paperless are endless. Firstly, it can save your business a lot of money. By eliminating paper-based processes, you can reduce the cost of printing, mailing, and storing paper documents. You can also reduce the need for physical office space, which can be a significant expense for many businesses.
Going paperless can also increase productivity. With all your documents stored in a digital format, you can easily search and retrieve information, saving time and effort. You can also collaborate on documents in real-time, reducing the need for physical meetings and increasing efficiency.
Moreover, a paperless office is an eco-friendly solution that can help your business reduce its carbon footprint. It can significantly reduce paper waste, which is a major source of environmental pollution. By adopting a paperless office, you can contribute to a cleaner and healthier planet while also saving on costs.
If you're ready to embark on the journey to a paperless office, the first step is to implement a document management system. This essential tool enables you to scan and digitise your paper documents, store them electronically, and manage them efficiently.
In conclusion, going paperless is a cost-effective, eco-friendly, and efficient solution for modern-day office management. By adopting a paperless office, you can save money, increase productivity, and contribute to a cleaner environment. So, why wait? Start your journey to a paperless office today!
What are the 7 key benefits of going paperless or paperlite?
Cost savings: By eliminating paper-based processes, you can reduce the cost of printing, mailing, and storing paper documents. This can result in significant savings for your business.
Increased efficiency: With all your documents stored electronically, you can easily search and retrieve information, reducing the time and effort required to manage documents. You can also collaborate on documents in real-time, increasing efficiency.
Improved security: Electronic document management systems offer a higher level of security compared to traditional paper-based systems. You can control access to documents, monitor changes, and back up important data to prevent loss.
Better customer service: With a paperless system, you can respond to customer enquiries faster, as you can access information more quickly. This can help improve customer satisfaction and loyalty.
Space-saving: By eliminating paper-based systems, you can free up valuable office space. This can help reduce the need for physical office space, leading to cost savings.
Environmental benefits: A paperless solution helps reduce paper waste, which is a major source of environmental pollution. By reducing paper usage, you can contribute to a cleaner and healthier planet.
Compliance: Electronic document management systems help you stay compliant with regulations and legal requirements. You can track changes, store audit trails, and manage documents to ensure compliance with industry standards.
Paperless Office Solutions by Pearl Scan
Award Winning, Cost-effective and User-Friendly
At Pearl Scan, we understand that every business is unique, and that's why we offer a range of document management software solutions that are tailored to your specific needs. Whether you're a small business with a low volume of documents or a large enterprise with complex technical requirements, we have the perfect solution to help you set up a paperless office. With our software, you can take the first step towards a more sustainable, efficient and cost-effective way of working.
Pearl Cloud
Works in conjunction with our document scanning services
Pearl Cloud is a cloud-based document storage and access software that offers a cost-effective and secure paperless office solution for businesses with high volumes of paper-based documents. It works in conjunction with our outsourced document scanning services, whereby our document scanning bureau handles the scanning, indexing, and quality control processes of your paper-based documents. Once the scanning process is completed, the digital documents are uploaded to Pearl Cloud, and you can access them securely through your account login.
With Pearl Cloud, you can store and manage your digital documents in a centralised and searchable database, which eliminates the need for physical storage space and the associated costs. Pearl Cloud provides a user-friendly interface that enables you to access and share your documents securely from anywhere and anytime.
By leveraging Pearl Cloud and our outsourced document scanning services, you can achieve a seamless and efficient paperless office solution without investing in scanning hardware, software, or staff. You can focus on your core business activities while we take care of your document scanning and management needs. Contact us today to learn more about how Pearl Cloud and our document scanning services can help you streamline your operations, reduce costs, and enhance your productivity.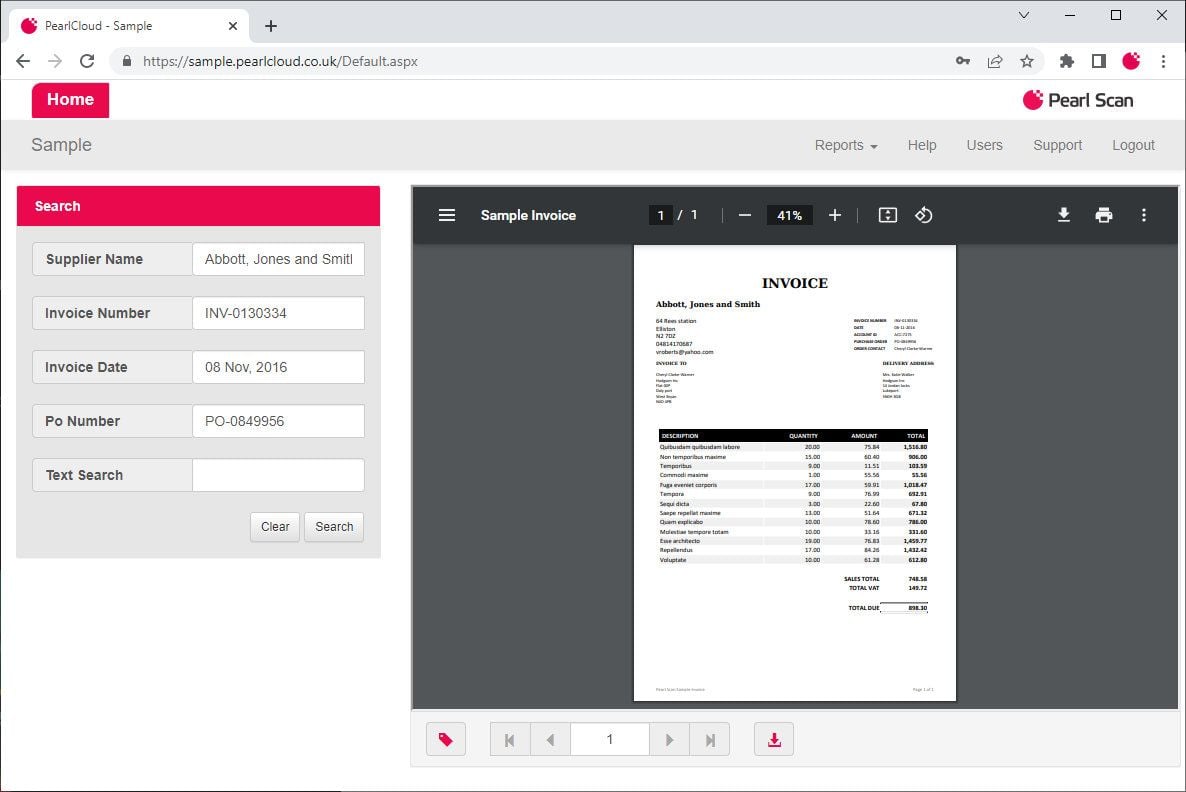 Pearl Merge
Powerful features and fully customisable
Pearl Merge is a comprehensive document management system that simplifies managing PDFs and other document types. Its OCR technology extracts text for indexing and easy retrieval. Users can search with multiple search options, organise documents with tags and folders, and collaborate with multi-user support. The software also features document versioning, user permissions management, multifactor authentication, REST API integration, and page management. As an open-source solution, we can customise the software to meet individual customer's needs. Overall, Pearl Merge offers a powerful and customisable document management solution for businesses of all sizes.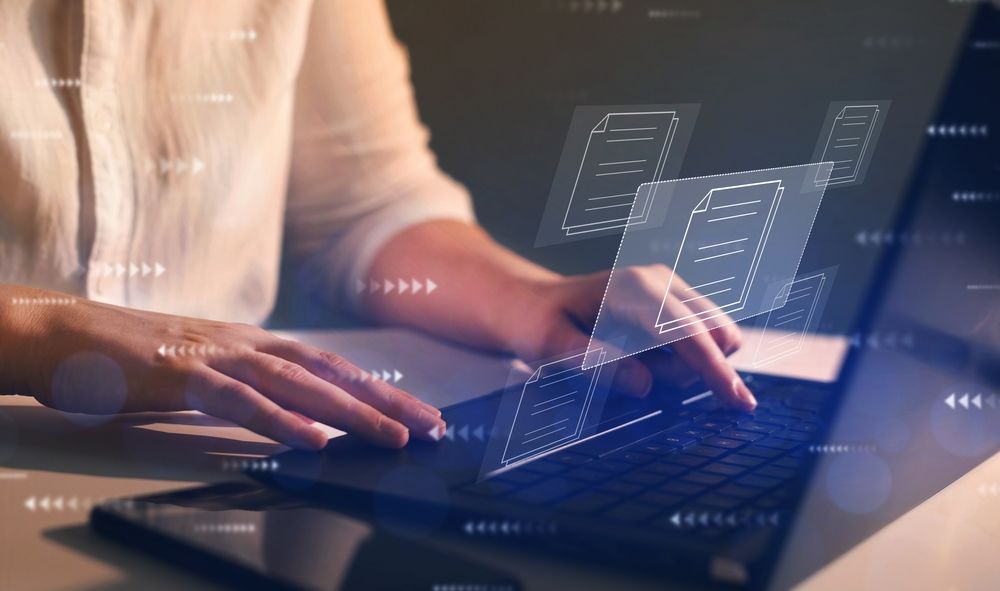 Halogen
Award Winning Software - London 2021
Halogen is an on-premise solution designed to simplify document management processes for businesses of all sizes. With Halogen Document Management, businesses can easily store, manage, and access their documents securely using their existing local infrastructure, while also streamlining document scanning and indexing workflows and increasing productivity. The software is user-friendly, with a modern, intuitive interface that is easy to navigate. It offers a range of powerful document search features using index and OCR data.
With Halogen Document Management, businesses can streamline their document management processes, increase productivity, and ensure the security of their documents. The software is an excellent choice for businesses looking for a low cost on-premise user-friendly, and secure document management solution as well as any outsourced document scanning bureau who is looking to increase their productivity.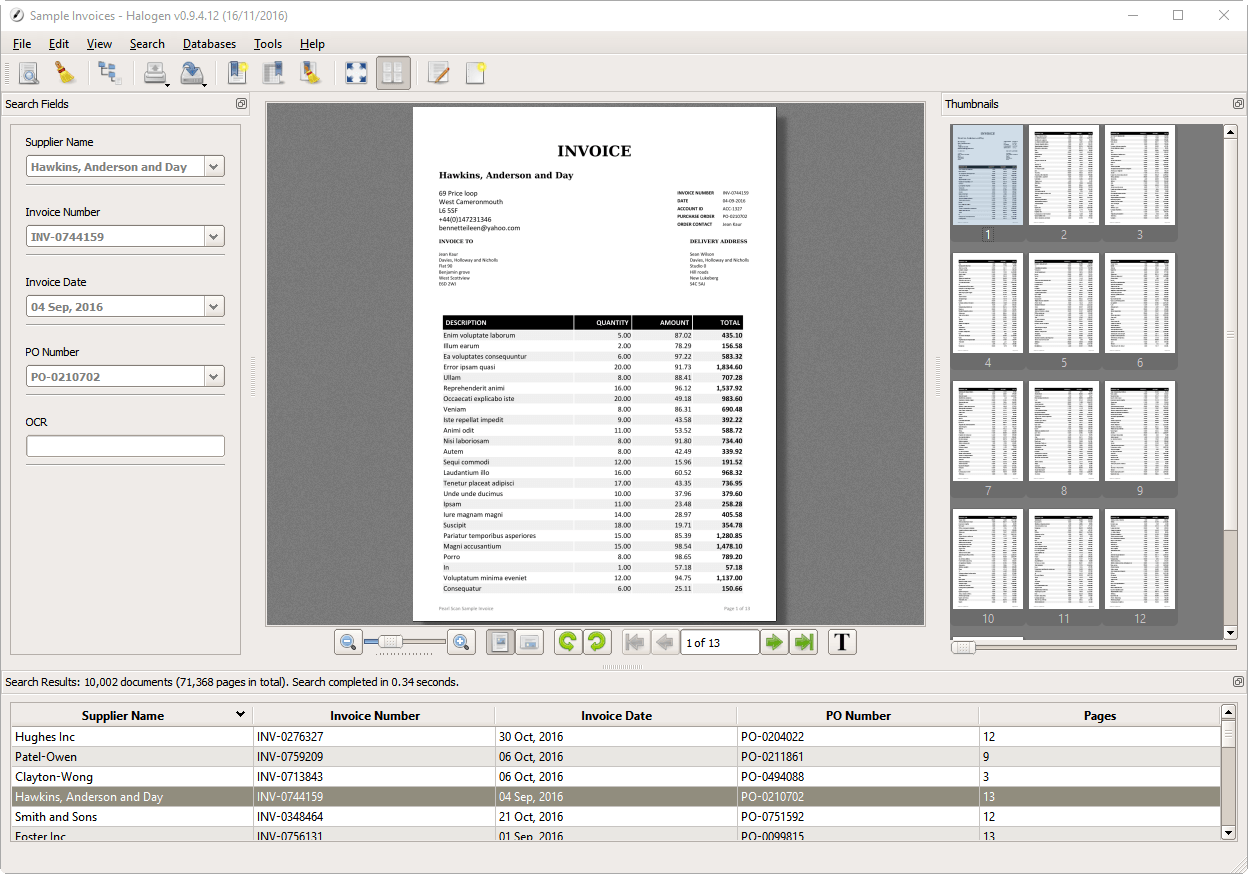 Data Security
Rest assured that your data is completely safe and confidential with us. We hold accreditations such as ISO 9001, ISO 27001, ISO 14001, PCI, ICO Cyber Essentials, and full GDPR compliance.
Scalability
We have a flexible infrastructure that allows us to provide paperless office solutions to organisations of any size and industry.
Pricing
Our paperless office solutions are tailored to the specific needs and limitations of each organisation. This approach allows us to offer flexible and competitive pricing.
The Paperless Office Process
Evaluation
We always start with a consultation with you. This is so that we can carry out an in-depth analysis of the situation and identify the steps and services to be put in place for your paperless office.
Proposition
Following the evaluation, we create a proposal for you. This includes recommendations best suited to your business, an estimated timescale and costing details.
Implementation
Once the plan has been developed and agreed upon, we begin the processes to transform your organisation. We do this mindfully to cause as little disruption to your business as possible
Support
During and after implementing our services we will provide any necessary support, training and maintenance to ensure an easy paperless office transition.
Our Paperless Office Services
Bulk Scanning
Our affordable bulk document scanning services to digitise your paper documents and streamline your workflow.
Document Storage
Our secure document storage services can help you to reclaim space and can be combined with our store-to-scan and scan on-demand services. 
Document Shredding
Protect your sensitive information and maintain confidentiality with our secure document shredding services.
Document Management
Unlock the advantages of our document management software systems that are customisable, flexible, and cost-effective. Get in touch with us to learn more.
Digital Mailroom
Eliminate the need to deal with incoming paper mail – we can scan the incoming mail and digitally deliver it to your inbox.
Invoice Capture
We can make the processing of your paper invoices easier for you by scanning and extracting the required data from individual invoices.
Archive Digitisation
Transform your paper-based archives into a digital format for easy access and efficient management with our archive digitisation services.
Scan On-Demand
Scan on-demand is a great solution if you're looking to gradually adopt paperless office practices. It's also useful for documents that don't require regular access.
Store To Scan
Store to Scan combines document storage and scanning. We store documents free of charge and scan the most recent files while shredding expired ones.
Things to keep in mind when transitioning to a paperless workspace
Going paperless is not that difficult
Scope and complexity depends on the size of your organisation. However, the technology we use with our paperless office solutions makes the process a lot easier.
It is much more efficient and convenient
Those minutes you spend looking for specific documents add up! Paperless office software such as Halogen or Pearl Cloud can search huge archives instantly. This gives you more time to worry about the important stuff.
A lot of it is the mindset
Most people in offices are used to paper documents stored in filing cabinets. To some, the thought of everything being digital can seem scary. However, we have found that once paperless office solutions are in place and people see the convenience of the system, paper is rarely missed.
Going paperless significantly returns the investment
Although going paperless does not seem immediately cost-effective, the service pays for itself in a variety of ways. For instance, you will save money on space, improve customer service, reduce time manually filing documents and much more.
Looking to transform your office into a paperless workplace?
Look no further than Pearl Scan!
Our cutting-edge document scanning and management solutions can help you achieve a seamless transition to a paperless office, no matter the size of your business. Say goodbye to the hassle and expense of paper-based processes, and hello to increased efficiency, cost savings, and enhanced productivity. Our innovative services are tailored to your specific needs, ensuring a smooth and hassle-free transition.