Secure Shredding
Document shredding is an integral part of our scanning services, once scanned we can securely shred the documents and microfilm based media to the latest BS EN 15713 standards and provide certification.
Confidential shredding services Accredited to the British security industry and recycling associations
Whether you require a shredding as part of our scanning services or a standalone call out for one off shredding of your old files, we can provide the most cost effective service of collection and confidential shredding to meet your needs.
Our shredding and recycling services are accredited to the following standards;
ISO 9001 (Quality management systems)
ISO 27001 (Information security)
ISO 14001 (Environmental management system)
ISO 15713 (Shredding of confidential information)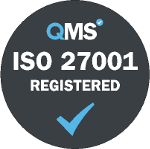 Environmentally friendly shredding
We love our planet and take great care in the shredding, recycling and disposal of waste. All our services are carried out in accordance with our fully accredited BS EN ISO 14001 standards. All paper based material is recycled into consumable tissue paper and cardboard.
Scan to shred
The majority of our clients would like to have their documents scanned to save office space and expensive cost of ongoing physical storage of files. Therefore upon completion of the scanning process, we can securely shred all documents to the BS EN 15713 standards and provide certification.
Standalone shredding
If you are going through an office clear out or office move and looking to have any unwanted files collected and shredded, we can arrange the most cost effective and flexible option to fulfil your requirements.
Regular shredding
For clients who would like to have shredding consoles, bags or boxes collected on a regular monthly or quarterly basis can benefit from our pre-scheduled collection and regular shredding and recycling services.
Mobile shredding
For clients who wish to have an additional security and peace of mind shredding of their confidential and sensitive documents we provide mobile shredding service for one off or regular shredding requirements.
Peace of mind document shredding and recycling services CALL US ON 0161 832 7991 OR FILL IN A QUICK QUOTE FORM AS BELOW
Trusted and reliable
We have been providing our integrated shredding services for the last 16 years to organisations throughout the country and always strived to provide the most reliable & cost effective method. We typically shred the following types of documents and material;
Accounts payable documents
Legal files
Medical records
Client files
General correspondence files
Development and construction related project files
Technical drawings and plans
Cardboard and lever arch files
Microfilm, microfiche and aperture cards
X-rays
Fast turnaround
Depending on your location, documents can be collected and shredded within 24 hours.
Data protection
All our staff members are fully vetted to DBS, have signed a secrecy act and follow GDPR standards.
Recycling
All paper and plastic based material is recycled adhering to The Recycling Association standards.
Other document management services...