Document Scanning Services Birmingham
For the past two decades, Pearl Scan has been providing professional document scanning services to Birmingham and the wider Midlands area, catering to the document scanning and conversion requirements of numerous public sector and private organisations.
Welcome to our document scanning services in Birmingham
By utilising our document scanning services, you can easily convert your paper documents into digital images that can be securely stored and retrieved from anywhere, at any time. This provides instant access to your documents, resulting in smoother audits, improved customer service, and simplified collaboration among team members. Our indexing process guarantees 99.5% accuracy, and we offer various indexing options such as barcode and OCR to make searching for documents a breeze.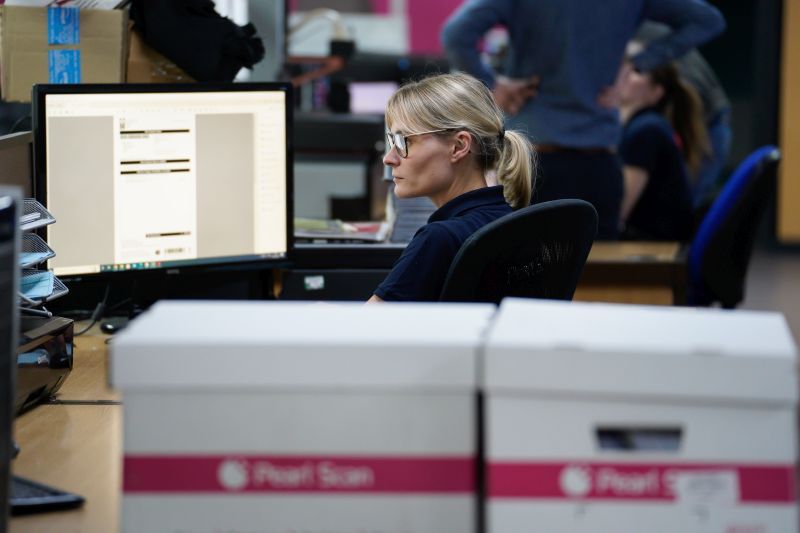 Transform Your Paper-Based Processes with Pearl Scan's Document Scanning Services in Birmingham
If your business is feeling overwhelmed and disorganised due to paper-based processes, Pearl Scan can help. As experts in document scanning services in Birmingham and the Midlands, we can help you convert your physical documents into electronic format, streamlining your business processing and providing instant access to your information from any device.
Our high-volume scanning and bulk scanning services can help you save time, money, and storage space, while also reducing retrieval and stationary costs. With our customised solutions, we can help you transition to an office with reduced paper and focus on core business tasks.
At Pearl Scan, we understand the importance of document retrieval and management, which is why we ensure all documents are scanned in duplex dual-stream colour with no additional cost. With our electronic document solutions, you can access and secure vital information from any location, even outside the office.
Let us help you make your document management fluid, secure, portable, and accessible with our expert document scanning services.
The document scanning process
What we do with your documents
Collection

We provide a secure collection of your documents from anywhere in the UK within 24 hours or as convenient for you as well as we can supply storage boxes and assistance with removing and boxing up your files.

Conversion

We scan and convert all types and sizes of documents to a digital format of your choice such as PDF, PDF Searchable, TIFF, JPEG, Microsoft Word and Excel.

Delivery

We deliver your digital data on a secure storage medium of your choice such as CD, DVD, USB, secure FTP or fully managed Pearl Cloud document management system.
Go Digital
Expert Solutions for Public and Private Sector Organisations
Reducing Costs and Increasing Efficiency for Your Business
Streamline Your Document Management with Pearl Scan
Enhance Business Operations with Electronic Documents
Remove the Hassle of Paper-Based Processes
Simple, Secure, and Accessible Document Retrieval
Connected Services for Our Document Scanning Service
Document Storage
At Pearl Scan, we go beyond just scanning your documents. We understand that some customers may still require their physical documents to be stored for a certain period of time, and that's why we offer secure and reliable document storage solutions to meet your needs. Our state-of-the-art storage facilities are designed to accommodate a range of document types and sizes, and we can provide short or long-term storage options depending on your specific requirements. You can rest easy knowing that your documents will be kept safe and secure with our top-of-the-line security measures in place. Choose Pearl Scan for a complete document scanning and storage solution.
Document Shredding
At Pearl Scan, we understand that after the scanning process, many customers require their physical documents to be securely disposed of. Our shredding service provides a safe and environmentally friendly solution for disposing of your confidential documents. We are committed to recycling as much shredded paper as possible and aim to reduce our carbon footprint. Our shredding process complies with the BS 15713 standard, ensuring that all confidential waste is securely destroyed. You can have peace of mind knowing that your confidential information is in good hands with our secure shredding service.
A Peace of Mind Document Scanning Service
Servicing clients in Birmingham and the Midlands for the last two decades
Document Security
We understand the importance of data security, especially when handling sensitive documents. That's why we have implemented a range of security measures to ensure that your data remains secure and confidential throughout the scanning process. Our systems are designed with the latest encryption technology to protect against unauthorized access, and we hold Cyber Essentials accreditation to demonstrate our commitment to cybersecurity best practices. We also have strict security protocols in place, including secure document transportation and access controls, to provide the highest level of protection for your data.
Document Confidentiality
At Pearl Scan, we understand the importance of confidentiality when handling our clients' documents and data. That's why we take every measure to ensure total confidentiality throughout our document scanning service. Our staff have all signed non-disclosure agreements and undergo CRB/DBS checks. Additionally, we adhere to the Data Protection Act and maintain strict security protocols to guarantee the safety and privacy of your sensitive information. With Pearl Scan, you can trust that your documents are in safe and reliable hands.
Data Integrity
Data integrity is of the utmost importance when it comes to document scanning. That's why we use state-of-the-art technology to ensure that all of your documents are scanned accurately and with the highest level of detail. Our experienced team of professionals performs a thorough quality check on all scanned images to ensure that they are complete and accurate. Additionally, we offer a range of indexing options to ensure that your digital documents are organised and easily searchable. Trust us to handle your document scanning needs with the utmost care and precision to maintain the integrity of your data.