Document Scanning Services Bristol
Welcome to our professional Document Scanning Services in Bristol! We bring cutting-edge solutions to businesses in Bristol and its surrounding areas, enabling them to effortlessly digitise their paper documents.
Welcome to our document scanning services in Bristol
As specialists in document scanning services and data capture, we have been serving businesses in Bristol for over 20 years. Routinely processing millions of documents, our document scanning bureau offers adaptability and scalability to suit your needs. Whether it's a one-time project or ongoing digitisation, we are the team to rely on.
In addition to providing swift delivery and collection of your paper documents across Bristol and the surrounding areas, we also offer same-day scanning services. Our collection team can assist you in removing files from cabinets and storage, and securely transferring them into locked boxes. Let us help you streamline your document management while ensuring security and compliance.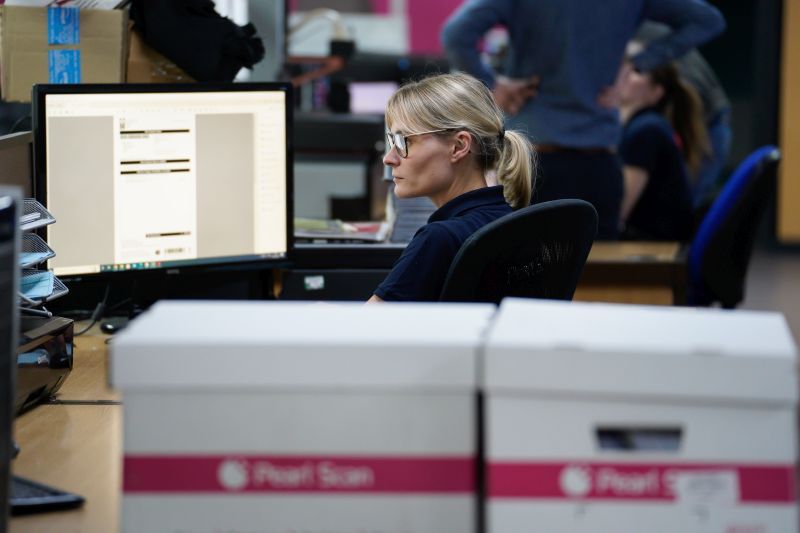 The document scanning process
What we do with your documents
Collection

We provide a secure collection of your documents from anywhere in the UK within 24 hours or as convenient for you as well as we can supply storage boxes and assistance with removing and boxing up your files.

Conversion

We scan and convert all types and sizes of documents to a digital format of your choice such as PDF, PDF Searchable, TIFF, JPEG, Microsoft Word and Excel.

Delivery

We deliver your digital data on a secure storage medium of your choice such as CD, DVD, USB, secure FTP or fully managed Pearl Cloud document management system.
Document Scanning: Data Security and Confidentiality

A Service That Offers Peace of Mind
Adhering to the highest industry standards, our document scanning company is certified to ISO 9001 (Quality Management System), ISO 27001 (Information Security System), PCI DSS (Payment Card Industry Data Security Standard), Cyber Essentials, and ICO (Information Commissioner's Office). Data security and complete confidentiality are at the core of our operations.
Each member of our document scanning team is thoroughly vetted in line with CRB/DBS regulations and operates under a strict data confidentiality and non-disclosure agreement. This guarantees your absolute peace of mind, knowing that your documents are in safe and secure hands at our document scanning bureau.
By harnessing the potential of our document scanning and data capture services, we can transform your physical documents into organised digital files. This not only reduces the need for storage space but also saves you considerable time by eliminating the need to rummage through piles of paperwork. Boost your operational efficiency and adhere to GDPR regulations seamlessly with our expertise.
FAQs About Our Document Scanning and Digital Archiving Services
Don't let paperwork hold your organisation back any longer! Take advantage of our professional document scanning services tailored specifically for businesses in Bristol.
Streamline your operations, enhance data security, and boost efficiency by transforming your physical documents into easily accessible digital files.
Our document scanning connected services
OCR processing of documents
We offer Optical Character Recognition (OCR) services for documents as part of our comprehensive document scanning solutions. OCR technology allows us to convert printed or handwritten text within scanned documents into searchable and editable digital text. This enables easy indexing, retrieval, and data extraction, further enhancing the accessibility and utility of your digitised documents.
How can scanned documents be accessed?
At Pearl Scan, we offer a range of convenient options for accessing your scanned documents once they have been processed:
Secure File Transfer: We can send your digital files using a secure file transfer protocol (SFTP) or other encrypted methods, ensuring data security throughout the transmission.
Cloud Storage: We can upload your scanned documents to a secure cloud storage platform, granting you access from any internet-connected device and facilitating seamless sharing and collaboration among your team members.
Physical Media: We can provide your digitised documents on physical storage devices, such as external hard drives, USB flash drives, or DVDs, based on your preference.
To determine the best method for accessing your scanned documents, we encourage you to discuss your specific needs and requirements with our team at Pearl Scan.
We also offer physical document storage service.
We also offer secure physical document storage services to compliment our document scanning solutions. Our storage facilities are designed to safeguard your valuable records, with features including:
Environment Friendly Storage: We store your documents in a environment friendly storage facilities to protect them from damage due to humidity, temperature fluctuations, and other environmental factors.
Fire Protection: Our storage facilities are equipped with fire protection systems to minimise the risk of damage to your documents in case of emergencies.
24/7 Security: We ensure the safety of your physical documents through round-the-clock security measures, including CCTV monitoring, access control systems, and intruder alarms.
Easy Retrieval: Whenever you need access to your stored documents, our team will quickly locate and retrieve the required files, either providing you with the physical copies or scanning them on demand for digital access.
With Pearl Scan's physical document storage services, you can rest assured that your important records are safe, secure, and easily accessible whenever you need them.
Our secure document shredding services
We understand the importance of safeguarding your sensitive information even after the digitisation process. That's why we offer secure document shredding services to ensure the proper disposal of your physical documents.
Our secure shredding services include:
Confidentiality: We handle your documents with the utmost care and discretion, adhering to strict security protocols throughout the entire process.
Compliance: Our shredding services comply with industry regulations, such as GDPR, ensuring that your business maintains its legal obligations regarding data protection and privacy.
Certificates of Destruction: Upon completion of the shredding process, we provide a Certificate of Destruction as proof that your documents have been securely and responsibly destroyed.
Environmentally Friendly Disposal: We are committed to environmentally responsible practices and recycle the shredded materials whenever possible, contributing to a greener future.
Trust Pearl Scan to manage the secure destruction of your physical documents, providing you with peace of mind and confidence in the security of your sensitive information.
Our wide range of document scanning services in Bristol to help local businesses
Contact Our Sales Team for a Free Document Survey or Cost Estimate
Looking to explore our document scanning solutions and determine how they can benefit your business? Look no further than Pearl Scan. Our sales team is ready to provide you with a free document survey to assess your needs and provide a tailored solution to meet your requirements. Contact our sales team today to arrange your free document survey or obtain a cost estimate, and take the first step towards revolutionising the way you manage your documents.