How Much is Your Magazine Collection Worth?
The answer to the above question, of course, varies—not only depending on the collection's contents, but according to their meaning to the collector, their practical uses, etc. In the end, the worth of your magazine collection is really up to you, with one small exception—it will certainly be worth more if you have it scanned and digitised! Here's why.
Access, searchability, and safety
While there's much to adore about having a physical magazine in hand—its glossy pages, the subtle scent of the ink, and so forth—anyone with a magazine collection knows that these things lose much of their charm when searching through dozens or hundreds of issues. Want to reference one particular article that you know you have, but aren't sure of the issue? Scanning through tables of contents digitally is far easier than searching through the physical magazines themselves.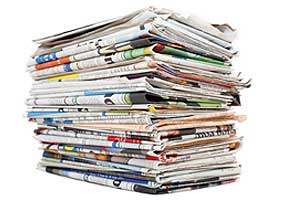 Also, once you find that article you were looking for, it's already in digital form: ready to email, upload, or share via social media. In terms of practical uses, there's simply no contest. Digitising increases the practical value of your collection.
But that's not the only way in which it increases your magazine collection's value. Scanning magazine collections also means being able to access the information in the magazines without the risk of bending or damaging the physical, paper magazine.
If your collection's monetary value is dependent upon the condition of the magazines, using a professional service that offers non-destructive scanning. That will allow you to enjoy the contents of your magazines without risking the physical specimens. In fact, you could then pack your magazines up appropriately and put them in a very safe location to keep them in great condition. Furthermore, if something does happen to the physical copy, you will still have the contents in digital form. No one expects flooding, fire, or theft, but these things do happen, and they can be devastating to magazine collections, books, and personal records. If it can be digitised, it should be.
Preserve your collection with magazine scanning
You've put effort into creating and maintaining an impressive magazine collection. Why wouldn't you want that collection to be digitised? Doing so helps to protect both the physical magazine issues from harm as well as the information within them from being lost. Plus, you may find yourself more eager to peruse older issues with them easily accessible digitally, allowing you to enjoy your collection even more.
Continue reading about book scanning services or request a free quote.