In May of 2018, the new GDPR (EU General Data Protection Regulation) will hit and many businesses will find their HR Departments having to take suitable action to ensure compliance.
How will HR Departments be affected?
GDPR will increase employer obligations with regard to staff, including informing them of their right to access their personal data as well as the ability to have it rectified or deleted. They will need to be told how long data about them will be stored and if any of that data is transferred to 3rd parties. And it is not only employers dealing with the personal data of employees that will have to comply; HR service providers that process any data on behalf of employers will also need to take heed.
Large amounts of employee personal data is held and processed by HR departments and this can also include former employees or even those applying for jobs. This is often stored on paper records and also on computers with 3rd parties frequently getting involved in the processing i.e. payroll or advisory systems. Such things as medical information and details of any trade union membership can also be included.
So what challenges will HR departments face with regard to GDPR?
In order to comply with the new GDPR regulations, HR departments will need to take account of:
Employee consent
Being fully accountable
Respecting employee increased rights
They will need to be sure that they are balancing the provision of privacy with the HR tasks that need to be administered, particularly with regard to the following key areas:
Retention of data
Targeted information
Ability to show full transparency and accountability
Using data only for its intended purpose
Data security
Getting ready for GDPR
With the GDPR go-live data fast approaching, all businesses in the UK are readying themselves to ensure full compliance. Larger organisations may well find themselves having to create a new job role, putting the responsibility of complying with the GDPR regulation on the shoulders of one key person. Unless full compliance is made, companies will find themselves faced with substantial fines so the cost of adding an extra person to the payroll can be viewed as an essential expense.
All new GDPR Project Managers will have one main role and that will be to foresee and evaluate all threats to the company's existing data management system and information governance processes. This will include storage and distribution as well as security of all data, whether held on paper or digitally.
Using document scanning to ensure compliance
At Pearl Scan we are working with businesses of all sizes and types, enabling them to prepare for GDPR by understanding exactly what full compliance means in practical terms. With a focus on paper files and documents, our job is to make sure that their storage and use does not break the rules of the GDPR regulations. Many businesses do not fully appreciate that threats can exist with regard to data on paper stored on shelves and in filing cabinets or even in PDF form digitally.
By making use of the full range of services we have on offer at Pearl Scan, companies can ensure complete GDPR compliance. They can do this by ensuring that all personal or sensitive information held on paper is made digital as soon as possible; this is where our document scanning services come into their own, offering a whole range of benefits as well as a rapid return on investment.
By outsourcing your document scanning to a specialist provider, you save time and money by not having to utilise your own staff; even if you have a scanning facility and a person that can be allocated to the task, it is usually the case that outsourcing to a professional document scanning service provider is the more sensible option. To up the costs of utilising a member of staff, setup time and the expense of gathering together all of the data and then indexing it once digitised and it is easy to see why so many companies rely on Pearl Scan.
How does document scanning ensure GDPR compliance?
There are many reasons why scanning documents helps ensure full compliance with GDPR regulations: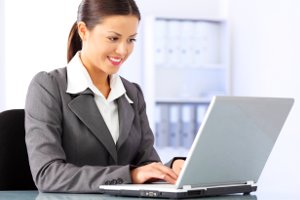 Data Retention – Data retention becomes far more manageable. In addition, if you put in place software such as Pearl Cloud or Halogen, your data retention rules can be set and processed automatically; all you need to do is set the guidelines. By having a clear Data Retention Policy in place for your company, should a data breach occur, at least you can show that you were taking all of the necessary precautions; without one, you leave yourself wide open to being hit with significant fines.
Security and Privacy – Leaving sensitive data on paper is not a good idea for many reasons; they are much easier to steal, copy or lose whilst when digitised, they can be stored and password protected. Especially delicate data can even be digitally encrypted. These are just a few of the reasons why taking the step towards document digitisation is an essential one in order to provide maximum security and privacy.
Data Search and Retrieval – Try finding an essential piece of information in a stack of paper documents and you will soon see why manual data search and retrieval is so much harder than with a digitised copy. If you apply this problem to Article 17 of the GDPR which states: "The data subject shall have the right to obtain from the controller the erasure of personal data concerning him or her without undue delay and the controller shall have the obligation to erase personal data without undue delay," then you can see how this could become a huge problem if data is still on paper; a small task for a digitised data retention system would become an unruly one. You would need to find all files relating to that member of staff, pull out the relevant papers and then act on them. Doing the same job digitally would take just seconds, enabling you to comply with the GDPR stipulation of "without undue delay". Think of the hold-ups that would occur trying to do this with paper documents and you can see that you would have an immediate problem. If paper files are stored off-site, or in badly organised banker's boxes in a basement, then this small task becomes even more unmanageable. The GDPR also stipulates the need for right of access, right to rectification and right to restriction of processing; when files are digitised, complying with this new regulation becomes possible.
Cost – It doesn't take much of a calculation to see that the cost of processing paper data in accordance with the GDPR is far higher than dealing with digital data. Whilst the expense does not automatically ensure GDPR compliance, it goes a long way towards enabling your business to conform, thus avoiding fines and penalties.
Document scanning services for HR
We have been operating a secure document scanning centre for over 15 years and have worked with a vast array of organisations from every different industry sector. Having scanned just about every type of paper document imaginable, we have the skill, knowledge, and expertise to process even the most sensitive of data, transforming it into easily manageable data files.
For this reason, we are trusted by many of the UK's most highly regarded organisations. Get in touch with us today and find out how we can help you achieve GDPR compliance by making use of our Document Scanning Service.