Document Scanning Services Near Me
Looking for professional document scanning services near you? Look no further! Our expert team is here to provide you with convenient and reliable document scanning services that will help streamline your business operations.
Welcome to our Scanning Services
Welcome to our Scanning Services! We are dedicated to providing top-quality document scanning solutions for individuals and businesses alike. With our state-of-the-art equipment and experienced team of professionals, we can convert your paper documents into high-quality digital files quickly and efficiently.
Whether you need to digitize your business records, medical files, or personal documents, we have the expertise and resources to meet your needs. Our services are designed to save you time, money, and space, while improving the accessibility and security of your important documents.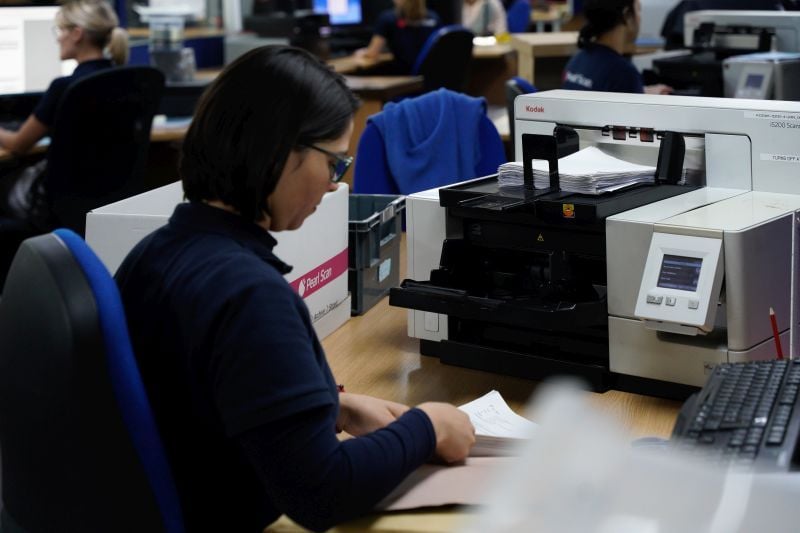 The document scanning process
What we do with your documents
Collection

We provide a secure collection of your documents from anywhere in the UK within 24 hours or as convenient for you as well as we can supply storage boxes and assistance with removing and boxing up your files.

Conversion

We scan and convert all types and sizes of documents to a digital format of your choice such as PDF, PDF Searchable, TIFF, JPEG, Microsoft Word and Excel.

Delivery

We deliver your digital data on a secure storage medium of your choice such as CD, DVD, USB, secure FTP or fully managed Pearl Cloud document management system.
How Do We Provide Our Document Scanning Service Near You
We provide our document scanning service near you, anywhere nationwide, in a convenient and hassle-free manner. We begin by assessing your document scanning needs and determining the best approach for your specific situation, whether you're located near us or across the country. Here's how we do it:
Collection: We'll collect your paper documents from your location, ensuring that they are handled securely and with care. If you prefer, we can also arrange for you to drop off your documents at our facility located near you.
Scanning: Our experienced team will use high-quality scanners to convert your paper documents into digital files. We'll ensure that the scans are of the highest quality and that all pages are included.
Quality Assurance: We'll review the digital files to ensure that they meet our strict quality standards. If necessary, we'll make any necessary adjustments or re-scans to ensure that you receive the best possible results.
Delivery: We'll deliver the digital files to you in the format of your choice, whether it's on a hard drive, USB, or through secure online transfer, whether you're located near us or anywhere nationwide. If you prefer, we can also store the digital files for you on our secure cloud-based servers.
At every step of the process, we prioritise your privacy and security, ensuring that your documents are handled with the utmost care and confidentiality, whether you're located near us or anywhere nationwide. Contact us today to learn more about our document scanning service , and how we can help simplify your document management process.
Document Scanning Services - Related Services
Document Management:
Once your paper documents have been scanned and digitised, document management services can help you organise and manage your digital files. This includes storing, indexing, and retrieving files, as well as implementing workflows and processes to manage document access and sharing.
Data Entry:
If your paper documents need to be converted into digital data, data entry services can help you capture the information in a digital format. This can include keying in data from invoices, surveys, and other forms.
OCR:
OCR technology can be used to automatically recognise and extract text from scanned documents, making it easier to search, edit, and analyse the digital files.
File Conversion:
If you have digital files in different formats, file conversion services can help you convert them into the format of your choice. This can include converting files to PDF, TIFF, JPEG, and other file types.
Cloud Storage:
Cloud storage services allow you to store your digital files securely in the cloud, making it easy to access and share files from anywhere, at any time.
Document Storage:
If you need to store your physical documents, document storage services can provide you with a secure and climate-controlled environment to store your paper records. This can include both short-term and long-term storage solutions, as well as retrieval and delivery services.
Document Shredding:
When you no longer need to keep your paper records, document shredding services can help you securely dispose of them. This includes shredding your paper documents into small, confetti-like pieces to ensure that they cannot be reconstructed, as well as providing you with a certificate of destruction for your records.
Onsite Scanning
If you need to keep your documents onsite for security or other reasons, onsite scanning services can come to your location to digitise your paper documents. This can include setting up high-quality scanning equipment at your premises to quickly and efficiently convert your documents into digital files.
Simplify Your Document Scanning Process:
Convenient Services Anywhere Nationwide
Don't let paper documents clutter up your workspace or slow down your business operations.
Benefits of our document scanning services near you include:
Reduced Clutter
Improved Accessibility
Enhanced Security
Cost Savings
Document Scanning Services Near Me - FAQs