January saw no change in the unpredictability of the weather across the country with 'thundersnow' and sub-zero temperatures mixed with warmer weather and heavy rain but what will this all mean for your document storage?
Document storage is something a lot of companies overlook and sometimes with devastating consequences. Without some thought put into the way you store your documents, important information can be lost with no way of retrieval.
Paper. It was the original go-to solution for storing information, whether that was HR files, invoices, legal documents or patient records. It is curious however, that we chose to store this vital data on such unreliable materials. Paper is so easily damaged or destroyed completely by water, fire and general wear and tear.
Rain, Snow and Fire
No, not an American soul band but the elements that could easily destroy your paper documents. If even the slightest bit of rain or damp gets into the premises you store your documents in, files could end up looking like this.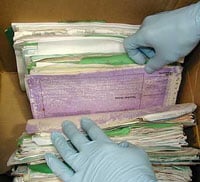 Some parts of the UK are known for flooding if a considerable amount of rain falls so just imagine the effect that level of damage will have on the documents you store. Similarly (and especially relevant to this time of year), snow can be a secret destruction. When it melts it can cause unprecedented damage just like rain.
Fire can also quickly destroy all traces of important information. A recent example of this kind of loss is the news from Russia last week that a fire in a Moscow library destroyed around one million historical documents. Without proper backup files, this information has been lost forever leading people to describe the disaster as a 'cultural Chernobyl'.
How Can You Weather-Proof Your Documents?
All you have to do to ensure your documents are safe is to digitise them and implement a digital document management system. Digital files while taking up only virtual space, can be backed up and stored through online platforms to ensure you can never lose them. Even if one version of the file is destroyed, you can access the backup version instead and if the hard drive storing the files is damaged by weather, your documents will be backed up through online storage.
Digital documents are now the safest and most weatherproof way of storing information for future use. So why risk your documents being damaged or destroyed by the elements when there's a simple yet effective solution?
Document Scanning and Document Storage With Pearl Scan
Here at Pearl Scan we offer a range of effective document scanning and storage solutions to help you safeguard your documents and the important information they contain. We offer scanning services for a range of businesses and organisations across a range of sectors including legal, schools and other educational establishments, HR, healthcare and NHS. We also have a range of different scanning and storage solutions that are flexible enough to be tailored to the needs of each individual client. We provide document scanning London, document scanning Manchester and document scanning across the rest of the UK. With our range of services, we can provide you with the perfect solution to increase the safety and security of your documents as well as save on storage costs and increase office efficiency.
If you would like some more information on how scanning documents to PDF and adopting digital document management can help you and your company, take a look at some of our other blog articles or get in touch today to speak to a member of our friendly and experienced team. We can also provide you with free consultancy and a free, no obligation quote for your scanning project.