Store-to-Scan: Another option to reduce storage cost and digitise your files
Our store-to-scan model has revolutionised the way an organisation store documents. Our innovative process can help your company save in storage cost and retrieval costs.
This is how Store-to-Scan works
We collect your document boxes, from your offices or from your storage provider anywhere in the UK, we store the boxes in our safe warehouse facilities free of charge.
Based on your file storage period, we start scanning the most recent files and shred without scanning the expired files.
For example if your file storage period is 6 years and you have files in the archive dating back to 2008. We will start scanning the most recent year's files from 2014, then 2013, 2012 and shred the year 2008 files without scanning in 2015 and year 2009 files in year 2016, and 2010 files in 2017. So in three years the latest three years files will be scanned but the oldest three years shredded.
So in three years, you will eliminate the total cost of storage as well as will have received three years free storage service and spread the cost of scanning over three years.
Typically we scan the following types of documents: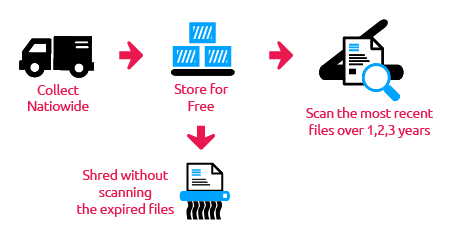 Pearl Scanning Company has different document scanning solutions that can be tailor for your company's needs. We provide record scanning solutions and record management solutions throughout the UK, no matter how small or big the project. We are a document scanning company certified ISO 9001, ISO 27001 and ISO 14001, find out more about our record management certifications.
Read more about Store-to-Scan.