In 1975, almost 40 years ago, Business Week published an article in which some startling predictions about the office of the future were made.
In previous blogs, we have mentioned 'the paperless office' time and time again but it is believed that the phrase was first used in Business Week's article all those years ago. A number of researchers and professionals were interviewed on how they saw the office of the future looking. Predictions centered around computers and the rise of electronic business. George E Pake, who was head of Xerox Corp.'s Palo Alto Research Centre, stated that by 1995, twenty years into his future, there would be "a TV-display terminal with keyboard sitting on his desk" and then explains
"I'll be able to call up documents from my files on the screen, or by pressing a button…I can get my mail or any messages. I don't know how much hard copy [printed paper] I'll want in this world."
Looking back, this seems like a shockingly accurate prediction considering the use of personal computers had only just come into play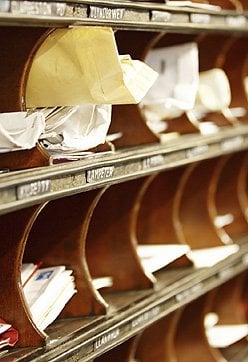 and were certainly not commonplace, not to mention the lack of modern-day programs on them. As of 2012, there were 3.3 billion email addresses registered so we can see Pake's insight into the modern world and the direction technology was taking in 1975. His statement about a paperless world also shows a great deal of revolutionary thinking.
Vincent E. Giuliano of Arthur D. Little, Inc. also made his opinion on paperless offices known, stating that the use of paper in business should decline by the 1980s and most record-handling would be electronic by 1990.
There are strong arguments from both sides as to whether these particular predictions bore fruit; however; one thing is for sure, they were looking in the right direction. It may not have happened by 1990 as predicted but we do now handle a lot of documents in digital form. In today's offices and everyday life in general for that matter, the world is getting more and more digital. Every minute more than 204 million emails are sent whether that is between offices or just everyday people. We like to have information at our fingertips and, with it being sent in email form, we now have the option to view on many different platforms. Whether that be on a desktop computer at work, a mobile phone on the street or an iPad on the train, they can be accessed (almost) anywhere. The number of networked devices is also expected to rise to double the population of the world making it easy to connect with anyone, anywhere at the touch of a button. In most cases, there seems to be no reason to send a paper document that uses up resources and money when it is quicker and cheaper to go paperless and send an email.
Assuming that Pake and Giuliano hadn't mastered time travel, we can't be sure what brought them to their conclusions, whether it was the cost effectiveness of digital document management, the opportunity to free up much needed space in the office or its time saving results, but the paperless office seems to have been a long time coming.
The paperless office may not have arrived yet but many successful and well-known businesses are seeing the importance of reducing their paper usage. They are completing document scanning on files upon files of information so it can then be stored on a database for easier access.
Admittedly, the transition from paper to digital has taken a lot longer than predicted in 1975 for many reasons. Some offices are still reliant on paper forms of important information and see scanning as an expensive option but document scanning companies, like us here at Pearl Scan, offer paperless office solutions to make the switch much easier and cost effective for companies who are ready but either don't have the resources to do it themselves or just see the benefit of hiring out an experienced company.
Don't wait for your office of the future, make it your office of today.
Feel free to read more about the many benefits of the paperless office or the benefits of hiring out document scanning services.
If you are interested in reducing the paper usage in your office by having your documents scanned and a digital document management system implemented, call us today.