New York's Paperless Legislation
Last week, New York State voted to allow legislature to go paperless. This will mean there will no longer be thousands of bills printed each year. As a result, lawmakers will also be able to access the legislation digitally.
Benefits
Costs- With significantly less paper being printed each year, the paperless legislation will mean a huge amount in paper and ink costs will be saved. This money can then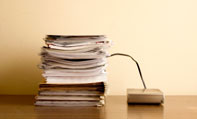 be spent on improving services in other areas.
Time- As we regularly say when we talk about the paperless office, without the need to waste time searching through a filing cabinet for documents and information, significant time can be spent doing more important work.
Moving forward- It is always good to see governments taking steps to keep up with modern technology and contemporary modern life. By switching to digital, offices will become more paper-light with open space to promote a healthy and more efficient working environment.
Paperless or paper-light offices also offer endless design possibilities. Check out some interesting paperless offices on our blog.
If you would like more information on how Pearl Scan can help your organisation become more efficient while also saving money and space, get in touch today to speak to a member of our friendly and experienced team.