Low office morale can be a problem in offices up and down the country throughout the year but poor file management could be making the problem even worse. We're here to help with three simple steps that could transform your HR department.
Low office morale can be caused by a number of things, whether that's lack of motivation, no support or even unchallenging work but today we're going to focus on one particular cause. Being obstructed from completing work due to poor file management processes.
Paper Document Storage
The main problem with storing HR files in hard copy format (in filing cabinets, folders and boxes) is its unreliability. No matter how hard you try, you cannot guarantee that all files will remain in the right place in perfect condition. Documents can be easily damaged and one simple misfile can affect everything making file retrieval a long and drawn out process. When things get in the way of work being done and makes everyday tasks more difficult, it is bound to lower morale. Another way hard copy storage can lower morale is when this storage is filling up offices creating a cramped working environment. Let's face it, no one wants to go into work in a cramped office surrounded by messily stored documents, do they?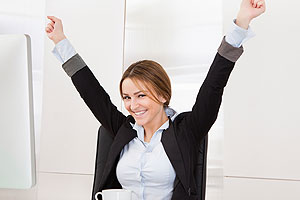 Three Steps to Boost Morale
STEP ONE- Scan
The first thing you need to do is collect all of the files and documents you currently store and have them digitised. With large volumes of files, it is usually more time and cost effective to outsource this work. By outsourcing the work to a scanning company, you should receive high quality scans and also have them fully indexed and OCR processed which will help greatly with step two.
STEP TWO- Manage
Once you have your HR documents fully digitised and indexed, they can be implemented into a digital document management system. This can be done in whichever way you feel would work best with your department. With larger departments, documents can be hosted in online cloud storage or over a shared network. In this system, files can be found quickly and shared with relevant personnel. For smaller offices of just one or two people, files can be stored on disks or USBs or on singular computer hard drives with just as easy sharing and retrieval capabilities. In fact, there are a wide range of benefits of HR record scanning.
STEP THREE- Destroy
Once you and the rest of the department are happy with your digital files and the new system, you can destroy the originals securely to free up that restrictive office space. When you have digital backed up files, they are no longer needed anyway and creating an airier office space or even just utilising the space more efficiently can do wonders for staff morale.
How Pearl Scan Can Help
Here at Pearl Scan, we offer a fully bespoke HR document scanning service that has saved our clients money, time and space with the new digital document management system making file retrieval much simpler and more reliable. They have experienced significantly boosted office morale by creating a better working environment within their HR departments. We also provide a document retrieval software which has been specially designed for Human Resources departments with powerful search capabilities so you can retrieve relevant files instantly. For more information about our HR scanning and document management solutions, get in touch today. If you would like a free, no obligation quote for your scanning project, complete our online form by following the relevant links below.
Liked this? Why not check out some more related articles-
HR Digital Document Management: The Smart Choice For Flexible Working
HR Document Management
The Importance of Scanning and Digitising HR Files