Document Storage Costs
Do You Know What You're Paying For?
There are thousands of companies across the UK that use storage facilities, but we wonder how many of them truly know the potential document storage costs.
These days with fewer and fewer people storing paper due to costs and cutting back, document storage facilities often find other ways to charge in order to make up for the loss of custom, but these costs are very infrequently talked about in the initial discussions. This is why we've decided to show some of the additional costs that you may be charged on top of your standard charges for document storage.
Some of these charges include:
File retrieval – if you're wanting some of your documents back for whatever reason, with a lot of storage facilities you can't always go back and get them yourself and will only offer a service of them doing this for you.
Collection of documents and boxes – when you initially have your files sent to a facility they will often charge very high rates in order to move your files from their current location to their own facility.
Inventory Costs – this is simply the cost of them putting your boxes in an order in which they can be located and found when required. The costs of this can be staggering.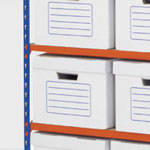 There are many other 'creative' ways you can be charged for storing documents, but these are the main three to look out for. Our in depth document storage costs page will be able to tell you more about the costs we found when researching some of the country's leading storage facilities. As a company that believes that we offer an infinitely better way to store and use documents, some of the prices we were quoted staggered even us.
However we offer a fair and even-handed perspective on the subject and we have often found that different types of companies prefer different methods of archiving their documents, but it's always best to get a perspective from all sides and to find out about these things before signing up for something and getting charged for things that you weren't expecting.
Head on over to our document storage page and take a look at some of the details on it. If you want to talk to us further about the archiving solutions we offer here at Pearl Scan, give us a call.