The idea of a paperless office has been around for years with only the most dedicated organisations managing to adopt one so far but it's easy when you know how.
How Can It Be Achieved?
Digital Notes
You're probably used to taking notes in a meeting with your trusty notepad and pen but this can produce an unnecessary amount of paperwork without you even realising. Paper notes are also behind with the times when it comes to sharing capabilities too which is why digital apps have become the latest technology advance in the workplace. Apps such as Evernote, Papyrus, OneNote, Google Keep and GNotes are all available for free via various platforms.
Upgrade IT systems
Before you start to take steps towards a paperless office, you should check that your IT systems can handle the increased use. If your IT system runs on Windows 97 at a snail like speed then it would be a very good idea to upgrade them so when you need access to digital files, it can be done in an instant.
Scan Archives
One of the main things you need to do before you can even consider going fully paperless is to tackle the paperwork stored in filing cabinets, folders and boxes in your offices. This is usually the largest amount of paper on your premises and sometimes the reason lots of companies think they can't go paperless but there is a simple solution. Scanning the documents to digital format will eliminate the backlog of paper and even give you easier access to your documents. The scanning process can be outsourced to a document scanning company too which will relieve the stress of having to do the work yourself.
Encourage Digital Correspondence
While you're implementing paperless office solutions you should encourage staff and clients to correspond digitally creating networks for them to share files and co-edit them too. This can be done over cloud networks or through platforms like Google Docs speeding up workflow and reducing the need to print documents off in your newly paperless office.
Are You Ready?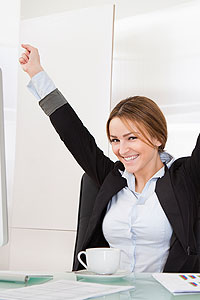 The paperless office brings a wide range of benefits such as saved space, lower outgoing costs, increased efficiency and better file security while still complying with file retention laws so it's little wonder there's so much hype around paperless office solutions. The main question though is, are you ready?
Let Pearl Scan Help
Here at Pearl Scan, we can scan documents of any shape and size and convert them into more easy to manage digital formats. We provide document scanning for businesses and organisations nationwide including document scanning London and document scanning Manchester. For more information about our document scanning services, take a look at our website or get in touch for a free quote for your scanning project.
Why not take a look at these related articles too;
How To Achieve a Paperless Office – Take The First Steps Today
More Businesses Going Digital to Save Space
Lower Cost of Tablets Promotes Paperless Offices