Those of you who are new to OCR (Optical Character Recognition), or even those of you who are familiar with it, might understand why it may be a useful tool when it comes to digital document storage rather than traditional paper storage, but there are so many advantages of OCR that you might not have thought about. You might even find that some of these will be useful for your company or even sway your decision to have your documents OCR processed.
Let's look at the advantages of OCR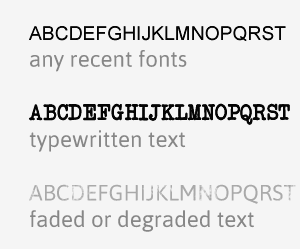 Text Searchable – Documents will be text-searchable with OCR processing. From that, it gives you the advantage of using the name of your documents, reference numbers, addresses, etc; when searching through your data base.
Time Saving – Saving you lots of time when using a digital file rather than paper documents.
Improving Customer Services – OCR processing can massively improve your customer services. If you take incoming calls which require you to access documents then having those documents available instantly in digital form can make the overall customer experience better due to the speed of searching for the files they need and the ability to edit their contents easily.
Fully Editable Documents – Your documents can become editable with OCR. We can convert the files to MS Word and any other editable digital formats.
Flexible Document Usage – OCR allows you to copy and paste from the document itself whether that's in PDF format or MS Word format.
Improved Business Efficiencies – With low costing OCR processing. The advantage is that it can improve how your business operates.
Positive Office Environment – OCR is also known to boost staff morale when their working environment is easier to work within and less paper-centric.
Now you know the advantages, what's Next?
Learn more about the potential advantages you and your company can achieve with OCR. We have great experience of scanning documents and applying the process of OCR.
Find out more how we tailor our OCR process to meet your requirements
It is possible to apply OCR conversion to documents which have already been scanned to PDF, JPG and TIFF format and it can also be included in the document scanning services offered here at Pearl Scan.
Contact us today to discover how we can tailor our OCR scanning and conversion service to suit your requirements. We work to find the best possible solution for you.
You can find more information on OCR scanning and conversion on our dedicated web page or you can get in touch with us.
We can provide a free quotation and professional advice
Related articles
Managing your documents, a better way with Pearl Scan.
How do document scanning services help you?